---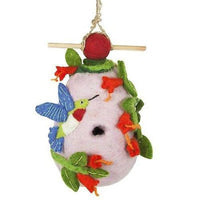 Felt Birdhouse - Hummingbird - Wild Woolies
Wild Woolies
This hand felted wool birdhouse is made of sustainably harvested, naturally water repellent wool. Surface moisture from dew, rain or snow quickly dries in the open air. Wool is also naturally dirt and mold resistant. The 1.25 inch hole can be enlarged to 1.5 inches to appeal to larger birds. Measures 9 inches tall by 5 inches wide.
Meet the Artisans
In the heart of the old Tibetan quarter in Lhasa, just a ten minute walk from the Jokhang temple, is the Dropenling Handicraft Center. Dropenling means "giving back for the betterment of all sentient beings." The program is the brainchild of the Tibet Artisan Initiative (TAI), a project of the Tibet Poverty Alleviation Fund a Boston-based organization founded in 1997 to help Tibetans in Tibet.

Some of Dropenling's most popular products include their hand and finger puppets. A professional costume designer was brought to Dropenling to work with a group of seven tailors to develop these wonderfully animated animals. From top to bottom and tip to tail, the woolen appliqué detailing is more than captivating. The group started with snowlion and tiger puppets as they are commonly found throughout Tibetan art, and make great characters!

In 2007, Dropenling became a self-sustaining business whose profits are re-invested into further support of the Tibetan artisan community. In addition to providing a steady market to Tibetan artisans through the Dropenling store, TAI has developed a number of other economic development programs that address problems and issues faced by the artisans today.